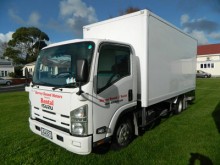 15.8 – 17.5 Cubic Metre Trucks$80 per day
39c per k/m
$150 Bond
3 seat manual furniture trucks with tail lift
Diesel
Daily rate, estimate kms and bond all payable on pick up. *Local estimate kms 20km $7.80, for destinations out of Wanganui City Boundary we will need to work out estimate kms at .39c per km.  On Return we refund any kms not used or if you have exceeded the estimate kms you will need to pay for these at .39c per km.
Pick up and Return Wanganui Depot only.
For bookings of 3 or more days, Marton pick up and return may be possible, additional fee will apply for this service.
Mileage of 500km and over is a minimum 2 day rental.
Bond refundable on return if full of Diesel and Returned on time
ALL VEHICLES ARE FULL OF FUEL ON PICKUP AND MUST BE RETURNED FULL
ALL PRICES INCLUDE GST
FREE WANGANUI AIRPORT PICKUP * Monday to Friday 8am to 5pm
$1000 – $1500 INSURANCE EXCESS (CONDITIONS APPLY)
FOR A CONFIRMED PRICE OR BOOKING PLEASE CONTACT US ON 0800 768 632